For much of my racing career I rode on steel bike frames, from the most beautiful Italian Columbus frames to custom builds from boutique companies. They were heavy, not very stiff, and the compliance factor left much to be desired, especially on rough Irish chip-seal. Then, we in the peloton heard of a new type of frame just coming on the market. One with tubes made of carbon fiber instead of steel or aluminum. So, in 1989 my friend and racing partner, Julian Dalby (one of our Global Ambassadors) and I decided to drive out to visit the Giant bicycle distributor for Ireland, Ted Phillips and see what we could find out about this new frame. We told him we did a bit of racing and asked if he might sponsor us. He already knew we were pretty good and immediately asked what sizes we needed, so we drove away with two brand-new Giant Cadex 980 C carbon-fiber frames.
Over the next week we stripped our old bikes of their components and built up the new Giant frames. After a few training spins we figured we were ready to test the bikes in the first race of the year—The Beechmount Cup. What a revelation! The frame was a dream to ride and we started winning races like crazy. The bike was quite different than any other bike we had ridden. It was much stiffer and very light weight. I was a sprinter, so the extra stiffness in the bottom bracket was a big factor for me.
One important thing I learned is that as they say, steel is real—real heavy, real springy, and can get real rusty.

John Gerard Sheehan
As a matter of fact, this carbon-fiber frame was instrumental in me outsprinting my hero, the great Sean Kelly for the win you see in the photo below. Sean was ranked #2 in the world that year (1989) and is currently ranked #3 all-time, so for me that was the crowning achievement of my racing career.
Julian and I were the first racers in the Irish peloton on this new bike and the only two riders that Ted Phillips sponsored. But within a year, approximately half the peloton was riding the Giant Cadex 980 C. I've never seen anything before or since that illustrates how important sponsorship can be in selling a product. It created an avalanche of sales.
1989 Carrick on Suir Hamper Race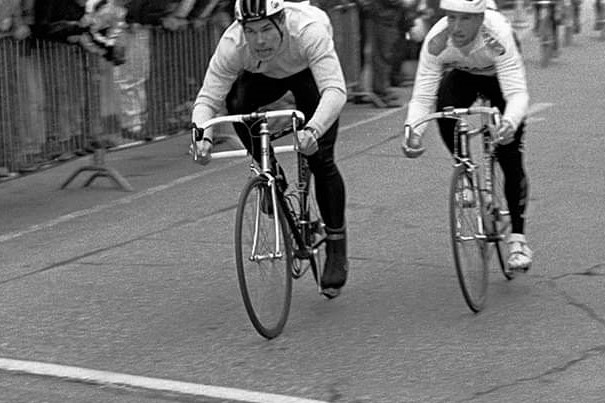 (Photo: John Pierce)